Pipit Global CEO Ollie Walsh contributed alongside 50 industry leading professionals for @FintechTalents and @finastraFS latest report "Creating the future: a hackers guide to financial services".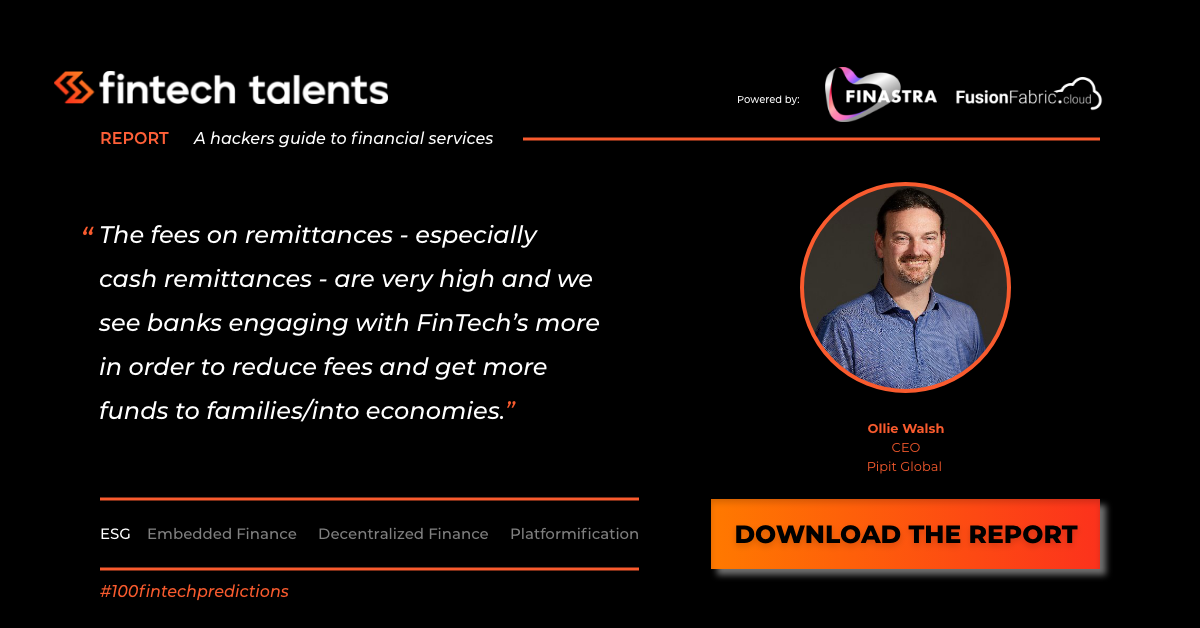 In this report, Ollie and 50 contributors from 15 countries provided their expectations on how the financial services landscape will evolve in the next year. The report is structured around 4 key topics: ESG, embedded finance, decentralised finance and platformification.
Commenting on the evolving impact of Environmental, Social and Geographic factors on financial services Ollie noted: "I think the Social part of ESG is going to continue to grow in importance…
The fees on remittances - especially cash remittances - are very high and we see banks engaging with FinTech's more in order to reduce fees and get more funds to families/into economies."
With regard to decentralised finance Ollie sees the importance of applying solutions to real problems rather than creating solutions that are looking for problems:
"In the blockchain/DLT world there is a scramble to find use cases - as opposed to applying a solution where there is no problem. Finance is rising to the top in those use cases where DeFi has real-world applications that can solve real problems. We can expect more focus (and probably also more noise!) around both investment in and applications of DeFi."
Another real-world issue that Ollie sees, and that Pipit Global addresses directly, is the provision of Agency Banking services to the public in physical on-street locations:
"The biggest trend coming out of 2021 and what we see growing rapid in 22 for Platformification is Agency Banking - enabling banking services to be delivered offline to customers via retail/POS/kiosk and other customer-facing services. Agency Banking is rapidly growing in Emerging Markets where the banking infrastructure has never been strong and I think it will also grow in developed markets where banking infrastructure has traditionally been strong, but is now
weakening with branch closures, ATM reductions, etc."
"A simple example (that is probably not referred to as Agency Banking, but in reality is) can be seen in the growth of 'cash back' in European markets. Consumers are now essentially withdrawing cash from their accounts via a retail shop transaction, which is cheaper for them than an ATM, saves the retailer lodgement fees on cash, and is cheaper for the bank than servicing an ATM. The concept of the platform is an interesting one in our company's space of
regulatory compliance."
These insightful perspectives will be the north star for the future of financial services. To learn more about the opinions of the industry guiding contributors, please download the report here.