Do make the checkout process on your site as easy and painless as you can.
Do not require your customers sign up - or sign in - just to shop!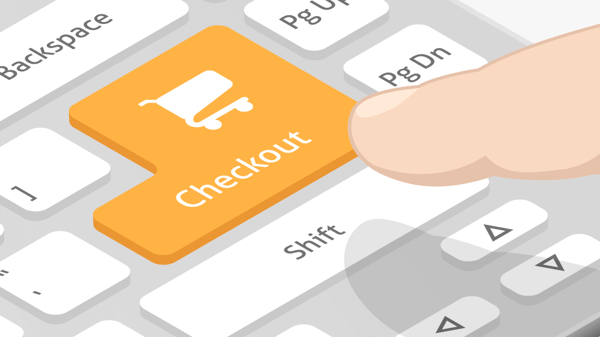 The reasons?
Every stumbling block on your website is another chance to frustrate a customer, and risks encouraging them to leave.
Customers are wary of handing over excessive amounts of personal information.
Offering your customers the option of signing up is fine, so long as your website makes it obvious that they do not have to.
Above all: make it easy for your customers to pay you!
Keep the Checkout Process and Layout Simple
When PCA Price (now Loqate) did their Online Shopper Survey in 2016, 84% of respondents would leave a checkout process if confronted with overly complex or lengthy forms to fill. This alone is a powerful indicator that a simpler and more straightforward checkout process will bring benefits. In 2018, Loqate cited a "smooth checkout" as one of the key things that businesses could learn from Amazon's online shopping experience.
Very often, websites force a customer to sign up to their website before they can make a purchase, either before they reach the checkout or at checkout. This does have the advantage of capturing more customer data, but at the cost of often losing the customer!
Customers generally do not want to be bombarded by promotional email, so they have even more reason to avoid sign up requests.
The best balance here is to grab the absolutely essential information for payments, such as email address and payment method during checkout. This will give key customer data without making customers feel pressured or tricked.
Provide a Checkout-Step Indicator
This lets customers know how far through the purchase process they are. Usability.gov (2018) stress the benefits of keeping users informed about any changes in a system and wherever possible, explicitly state the next steps. These principles can easily be applied to ecommerce websites.
Inform Customers If the Item Is Unavailable
If you do not currently have an item in stock, inform your customer as soon as possible - preferably immediately. Do not force a customer to go through the entire checkout process, only to discover that they cannot buy the product.
Some superior options:
Show stock numbers on search pages for the product.
Show stock numbers on the product page.
Offer to contact customer as soon as the product is back in stock.
Offer similar alternative products that are in stock.
Allow Customers to Easily Change or Remove Items from Shopping Cart
Allowing customers to easily change their minds about which product they buy means that they are more likely to buy a product. Road blocks such as setting a product amount to zero are more likely to frustrate a customer than keep them buying.
Provide a Choice of Payment Methods
Do not lock customers into one method of payment. Provide more choice in payment options, and the wider an audience who can purchase from you. Do not waste the time of people who wish to pay you.
Finally, Reassure Customers about their Purchases
One advantage of brick-and-mortar shops is that customers can examine products before they purchase. Ecommerce retailers should do all they can to reassure customers on their websites, as advised by the Nielsen Norman Group in web usability research (2015).
List full product details.
Provide clear photographs of physical products, from multiple angles.
Provide a full page to show shopping cart for easy comparison.
Provide live chat support.
Inform customers about delivery times.
Send confirmation emails.
Remember, a smooth customer experience is a profitable one.
Sources
https://downloads.digitalcommerce360.com/Resources/110618_TransUnion_shoppingCartAbandonment.pdf
https://www.loqate.com/resources/blog/what-you-can-learn-from-amazon-about-international-ecommerce/
https://www.nngroup.com/articles/shopping-cart/
https://www.retailtouchpoints.com/topics/e-commerce/84-of-shoppers-abandon-sites-with-complicated-online-checkouts
https://www.usability.gov/what-and-why/user-interface-design.html