Filipino expats in the UAE are among the biggest sources of remittances for the Philippines. Despite the high cost of living in UAE, Overseas Filipino Workers are able to save a huge portion of their wages and send them back home to the Philippines to help the family back home.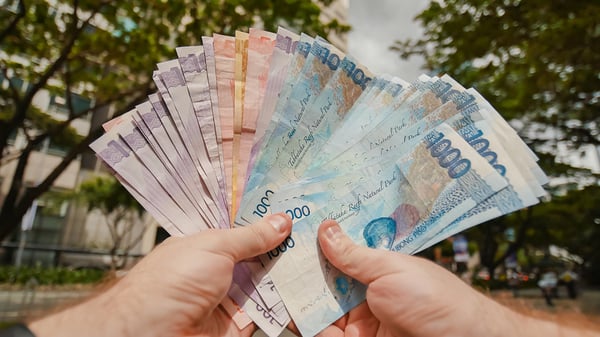 Most of the funds, however, aren't sitting idly in bank accounts, and nor are they being invested. Most of the money transfers are being used as a source of sustenance for dependent families in the Philippines, who don't have any other means of support. The Philippines depend heavily on cash transfers made by the thousands of citizens living and working abroad.
According to estimates by the Philippine central bank, Filipino expats in Saudi Arabia sent more money compared to their peers in Kuwait, Bahrain and Oman, with their remittances accounting for 1/3 of the total amount of cash flowing from all Gulf Cooperation Council (GCC) states.
Production and service workers account for more than 80% of these workers, in industries such as architecture, construction, cargo shipping, engineering, IT, nursing, tourism and as domestic helpers. Through agreements between the 2 governments, the minimum monthly wage for overseas Filipino workers is set at approximately €350.
Approximately 11m Filipinos (12% of the population) live and work overseas. It is one of the largest diaspora populations, spanning over 100 countries. Overseas Filipino Workers tend to be younger, aged 24-35. There is an almost 50/50 male female balance, but the female overseas worker tends to be younger than the males. Traveling and working overseas is encouraged by the government in The Philippines with government funded media campaigns, and other initiatives describing the overseas workers as the heroes of the nation, encouraging citizens to take pride in these workers.
Interestingly 80% of all remittance comes from only 7 countries—United States and Canada, the United Kingdom, UAE and Saudi Arabia, Singapore, and Japan.
It is worth noting that official figures represent only a fraction of all remittances and those done through unofficial and illegal channels are estimated to be 30 - 40% higher than those quoted. Transaction costs through unofficial channels average 9% of the sum being transferred. When overseas workers send €200 home, for example, the transaction cost is an average of almost €18. These costs should be lower.
In the UAE transaction costs are an average of 6%, but there are regions, such as Africa where remittance charges average about 12%. Even more staggering is the fact that for some migrants, especially in areas where there is little competition, the cost of sending money home is more than 20%.
Migrant workers in particular can find it hard to open a bank account abroad so therefore have limited options for sending money home to their families. As a result they are often subjected to the highest money transfer fees. A new service called PiPiTbanking which operates like an international lodgement network for banks can help to transfer their money home in a safe, secure and cost effective way.
Original article published: November 27, 2018; Cleofe Maceda, Senior Web Reporter, Gulf News