Introduction
In last week's blog post, we described how offering customers something for free motivated them to buy more. Free delivery for online retail is a powerful tool to drive conversions, with research dating back over a decade. A retailer must weigh the cost of free delivery against the likely benefits.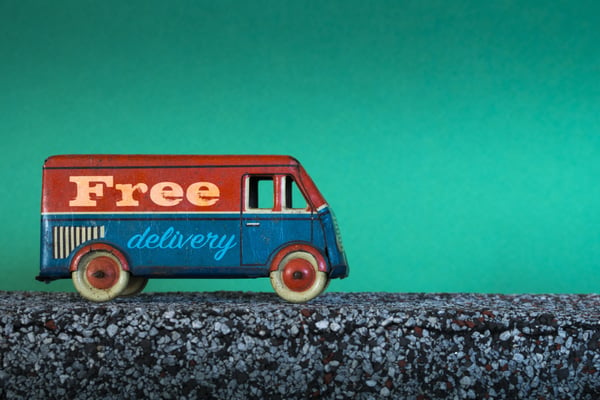 The Benefits of Free Delivery
44% of online shoppers in the North American Technographics Retail Online Benchmark Recontact Survey (2009) cited high costs as the reason for abandoning their online shopping carts. Harvard Business School (2018) research found that consumers are one-tenth as sensitive to increases in shipping fees as they are to product price increases. This has clear implications for the value of reducing delivery costs.
UPS sought studies from both Harris Interactive (2008) and Forrester Research (2011) on free delivery. They found that retailers generally saw free delivery either as a competitive edge or as a cost of doing business online. In both cases, retailers see key benefits of free delivery:
Delivery costs strongly influence selection of online retailers for most product categories.

Retailers report gains in all product categories with free delivery, with most benefit seen with high-margin retailers, easily fulfilled orders, or well-placed distribution centres.
Ahmad and Callow, in the International Journal of Electronic Commerce Studies (2018), report that free shipping was favoured by customers, with membership free shipping generally being more profitable than contingent free shipping. This is borne out by Zacks Investment Research reporting that Target Corporation are offering two-day free shipping for the 2018 holiday season, in order to compete with similar prior offerings from Walmart and Amazon.
The Costs of Free Delivery
There are costs to free delivery, such as:
the upfront costs of free shipping services.

consumer preference for free delivery falls for high-value items or high-urgency orders.

free delivery can cause unexpected costs besides the delivery cost itself (e.g. free shipping 'spikes' requiring additional labour).
Ahmad and Callow also noted that experienced online consumers were more enticed by discounts than by free or reduced delivery costs.
Conclusion
Customers enjoy being offered something for "free" and advertising "free shipping" will definitely get their attention. It is critical to weigh up the costs, but free shipping can be a powerful tool to boost sales.
Sources:
https://www.ups.com/assets/resources/media/en_US/Smarter_Strategies_for_Free_Shipping.pdf
http://www.academic-pub.org/ojs/index.php/ijecs/article/view/1542
https://www.zacks.com/stock/news/330783/will-2day-shipping-offer-lend-target-edge-over-amzn-amp-wmt
https://hbswk.hbs.edu/item/how-to-use-free-shipping-as-a-competitive-weapon?cid=wk-rss