Introduction
Product returns are inevitable for an e-commerce business. Trying to avoid expensive returns with an awkward returns policy will result in greater losses. Thus, a straightforward and transparent returns policy is beneficial to an e-commerce business.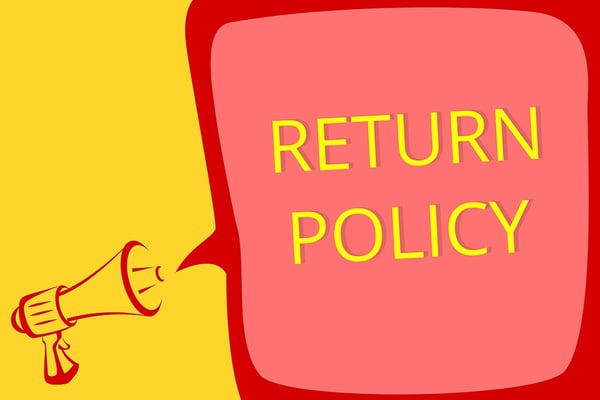 High Returns Rate in E-commerce
Research shows that at least 30% of all e-commerce orders end up being returned, as against just 8.89% of sales in physical shops. Factors contributing to this higher figure include:
Inaccurate/unclear product information
Incorrect products sent
Products damaged or not fit for purpose
Unwanted gifts
Fraudulent returns
Data from UPS suggest that the cost of processing returns can range from 20% to 65% of the total cost of goods sold. But an easier returns policy can reduce this figure.
Value in Better Returns
A study published in the Journal of Marketing showed that stores that offer free returns see customers spend up to 457% more than they did prior to the return. The converse was also true, with repeat purchase spending dropping by 75-100% for customers who were asked to pay for return shipping. A straightforward and free returns policy clearly pays for itself in improved future sales.
Best Practices for Better Returns
Here are some best practices to both reduce the need for returns and any negative impact when they are necessary.
Create descriptive product data
Allow and encourage customers to leave product reviews
Invest in an order fulfilment platform
Allow and encourage returns to warehouse or physical stores
Create a centralised online returns portal
Offer competitive return deadlines
Communicate return policies clearly
Offer product exchanges when possible
Manage the issue of fraudulent returns delicately
Conclusion
Customers satisfied by a clear and convenient returns policy are more likely to return – and with their business.
Interested in this topic? READ THIS BLOG —> Calls To Action Get Customers Spending
Sources:
http://journals.ama.org/doi/abs/10.1509/jm.10.0419?code=amma-site
https://www.business2community.com/infographics/e-commerce-product-return-statistics-trends-infographic-01505394#hUm45j2iCV31tvsl.97
https://www.entrepreneur.com/article/279986
https://www.linkedin.com/pulse/e-commerce-returns-refunds-best-practice-guide-priya-nair?articleId=819835713720382615
https://www.statista.com/statistics/272391/us-retail-e-commerce-sales-forecast/