The AtlanTec Festival of Technology 2020, featured in yesterday's Sunday Business Post has transitioned to a virtual global event.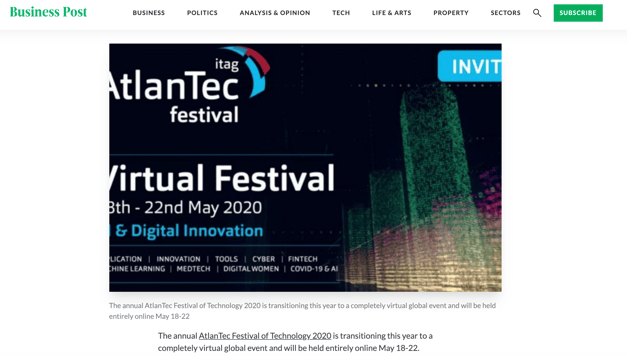 2020 is the 4th year of the Itag festival and has the theme of "The Art of AI and Digital Innovation: the Fourth Industrial Revolution". Due to the current pandemic the festival will be run virtually from May 18 - 22. We are excited to share Tuesday's Start Up session with fellow PorterShed members, PlanDomino and Octiga Software.
Ollie Walsh, our CEO will speak in the Start-Up Session next Tuesday 19th May at 16:00 GMT. Visit www.atlantec.ie to book your place.
https://www.businesspost.ie/commercial-reports/the-art-of-ai-and-digital-innovation-the-fourth-industrial-revolution-bc58804f