PiP iT Global pitched last night at the first Western Edge investment event.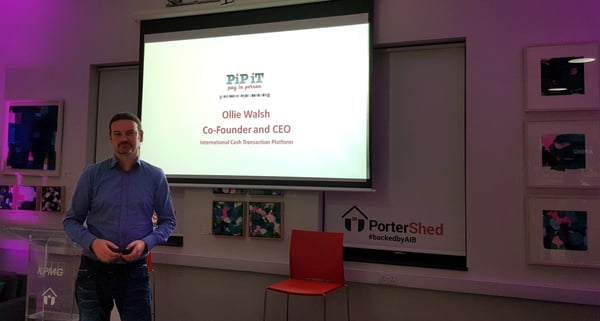 Western Edge is a new angel investment group in the west of Ireland - headquartered in Portershed, Galway. It has been established by Prof. Bob Rosenberg working with the already established start-up eco-system in Galway - The PorterShed, GTC, NUIG, GMIT, WestBIC, HBAN.
Three companies pitched to an audience of 50 invited guests. All three companies have been active participants in the Galway eco-system and working with Bob Rosenberg.
From PiP iT Global, Ollie Walsh completed a Post Grad in Applied Entrepreneurship in NUIG's Atlantic Centre, where Bob was the visiting Professor.
From Hidramed Solutions, Suzanne Moloney pitched. They are a MedTech company who have developed and are patenting new technologies for wound care. Suzanne recently completed the BioExcel accelerator in NUIG where Bob is the Entrepreneur in Residence.
From Eirscope, Jonathan Harty and Shankar Ganesh Jayagopi pitched. They have a very clever device/system and they are using data to transform the oil heating industry. They have just completed the NDCR accelerator in the PorterShed. Bob is also the Entrepreneur in Residence here.
As well as being well attended, it was a very interactive event; with a lively Q&A following each pitch and active networking afterwards.
Requests have been made for more information on companies and term sheets. It looks like Western Edge is on its way!
Quarterly pitch events are planned, with the next one scheduled for 21st of February 2019.
If you are interested in being invited to the next event, email Bob Rosenberg on
rarosenberg@gmail.com