M-vendr is a Leeds-based tech company that has built and deployed an innovative POS pay-in system across 12 African nations with a total of 45,000 merchants.
This month we signed a partnership agreement which will see PiP iT integrated into the M-vendr system and our bar-codes accepted across the network.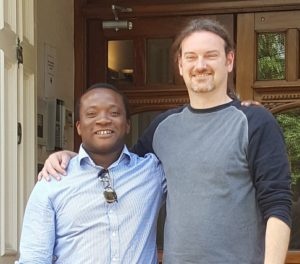 Michael Charangwa – CoFounder and CEO of M-vendr with Ollie Walsh CoFounder and CEO of PiP iT pictured at Mvendr's Leeds offices.
This is a pretty dramatic expansion of our collection capabilities and of the concept of Digitising Cash.
It means that we will be able to offer the following services in Africa:
Cross-Border Cash Bill Pay – Within Africa there is significant levels of economic migration with money being remitted home. Intra-African cash remittance is amongst the most expensive remittance in the world. With our existing bill pay partners and the M-vendr platform, we will be able to offer cross border bill pay in cash. This will be at a significant saving for the individual.
Cross-Border Cash Bank Lodgements – Another common issue for migrants is they may have a bank account in their home country, but be unable to get one in their host country meaning they can't get paid into a bank account (as employers won't transfer across borders) and they can't lodge cash to their account. With our partner PayAfrique, individuals will be able to lodge cash to their PayAfrique wallet and then transfer it to their bank. This service is linked to 130 banks in Africa.
Cash loading of eWallets – eWallets are growing dramatically in use due to their flexibility and ease of use. However, to date the only way to get funds onto the eWallet was via bank transfer or with debit card – so can only be used by people who have banking facilities. Now, with PiP iT cash can be loaded to eWallets such as QwikPay that our partner First Global Data are launching next month in Nigeria.
Cash Payments for Online Orders – Cash on Delivery (COD) is the number one payment method for eCommerce orders in Africa with a total of 54% of transactions COD. (See infographic below for where Cash on Delivery is King) This is due to the low level of banking/card infrastructure but also very low levels of trust when using these details online. The problem with COD is it puts all the risk on the merchant to ship the goods and hope someone is available to receive them and make the payment. With PiP iT's eCommerce module, individuals will be able to pay with cash in advance via our bar code at theMvendr agents. This has 100% accessibility and also is at no risk to the merchant. There is no fraud risk for either the merchant (no charge backs) or the consumer.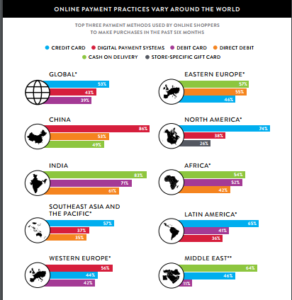 https://www.nielsen.com/content/dam/nielsenglobal/jp/docs/report/2016/Nielsen-Global-Connected-Commerce-Report-January-2016
M-vendr Network
M-vendr operate a really advanced and innovative network. The network is 80% mobile-hosted, geo-located (so consumer can always find their nearest one) and pre-paid by the merchant (so payment is guaranteed).
The geo-location is linked to the merchant account so if a consumer creates a PiP iT bar code for $50 they will only be prompted to go to a POS that has more than $50 on account.
The countries covered by the M-vendr network are Kenya, Ghana, Mozambique, Sierra Leone, Botswana, Tanzania, Uganda, Namibia, South Africa, Nigeria, Zambia and Zimbabwe.
The first three countries to go live will be South Africa, Zimbabwe, Ghana, Mozambique and Nigeria in Q4 of 2017.