This week, TechIreland released their report on funding of technology companies in Ireland in the first half of 2018. In the report - click here to see it - they have an interactive map where you can view all the companies who got funding, how much, what they do etc. It is great to see PiP iT literally 'on the map'!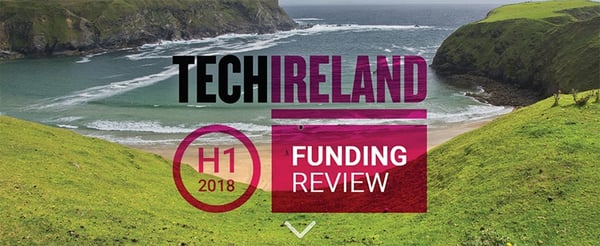 The real story of the report is how much room there is to grow for investment in Irish tech companies and for the Irish investment community.
In total in a six month period, 80 companies in Ireland received investment, with a total of €538m. Two companies - Intercom and AMCS Group - received €100m each in investment, so 37% of the funding went to two companies, leaving a total of €338m between 78 companies.
Considering the amount of innovation I see in Irish companies every day and the fact we are in a strong growth period, these numbers seem very low to me.
We need a system that makes investing in companies attractive for those who have the funds to do so. The round completed by PiP iT last month was led by West Loop Ventures who are based in Chicago. It became apparent to us during the negotiations that the differences in investing in US and Ireland are stark!
We need to see more work on regional balance too. 74% of investments went to Dublin. Of course it's the capital, its where most tech companies are based, but there are many tech companies and a lot of start-up activity outside of The Big Smoke.
€398m to Dublin based firms, €100m to Limerick companies, leaving €39 between the rest of the country. Considering the breakdown, Galway is doing relatively well, receiving €26m, compared to only €3.7m investment in Cork companies!
There is a lot of good work going on in Galway to attract more investment to the West, but, our own experience with West Loop Ventures notwithstanding, money is local.
As part of our story in PiP iT, we had to move the company to the UK in 2015 in order to secure funding. We had a social fund in Yorkshire - The Key Fund - willing to invest as we are a social impact company, but their mandate didn't allow them to invest outside of Northern England. As founders we are very proud of the company being a west of Ireland start-up, but as directors of the company, we had to follow the money and move to the UK.
While based in Sheffield, I had numerous meetings with London based angels, investment syndicates and VC funds, with pretty much all of them unwilling to invest in a company based outside of London. This year we moved the company back to Ireland to secure Enterprise Ireland investment to match West Loop.
In the West we have great support systems - Galway Technology Centre, The Portershed, Galway Chamber, NUIG Innovation Centre, GMIT Innovation Hub, WestBIC, StartLab, Bank of Ireland Workbench , WestWorks the list goes on, but companies - Start Ups or Scale Ups - need funding to grow and compete on International markets.
We need a tax system that is more encouraging of entrepreneurs, and more attractive for investors, especially angels. I think this would help investment overall, but also help regional investment by supporting high net worth individuals to become angels and to invest in their local ecosystem.