Over the last five years, Pipit has been building a global network of cash-in partners with the target of making it cheaper, easier, and safer for migrants to make cash payments / get cash home.
Our network – available through a single API – now has 1.4 million cash in points connected to it.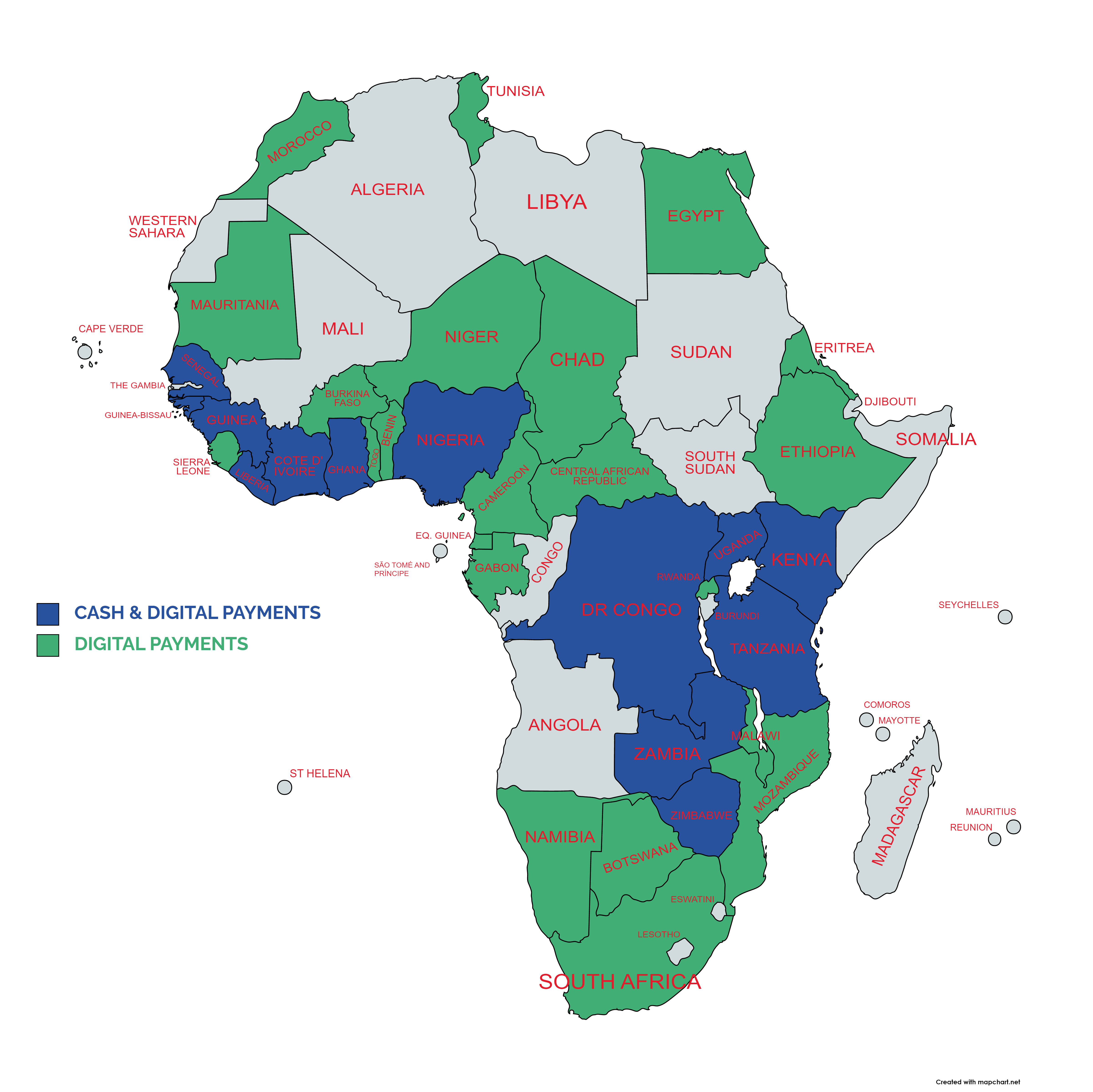 Our initial focus was building our cash-in network in Europe as sending cash home from Europe to Africa is expensive, but it's actually more expensive to make cross-border cash payments within Africa or LatAm. We are helping solve that problem by focusing over the last year on building up our cash in connections in Emerging Markets in points in 40 countries including across Africa and LatAm.
New Payment Capabilities
As we built up our network of payments partners, we had additional payment types beyond cash available to us. Cash and cross-border cash payments have always been our USPs, but we decided to review with our merchants if they wanted access to additional payment types through the Pipit API. The answer was a resounding yes!
Bank and Mobile Money in Africa
In 2020, the African ePayments industry generated $24B in revenue on $800B in transaction value across 47B individual transactions. Amazingly, these numbers for Digital payments only represent 5-7% of all African transactions! This means there is a lot of growth to come in African ePayments! It also means that cash is dominating African transactions.
We have now integrated and are processing bank and mobile money payments in Nigeria, Ghana, Senegal, Ivory Coast, Guinea, Guinea Bissau, Kenya, Uganda, Tanzania, the Democratic Republic of the Congo, and Zimbabwe. For all these countries we process pay-in and pay-out transactions - across all mobile money and bank brands.
The full cash, mobile money, and bank capabilities are available through the single Pipit API.
Developed a Pipit FX engine
As a company based in Europe, we are used to dealing with a single currency – as are most of our merchants. Most of our non-European merchants prefer to operate in USD. This creates a barrier for them when entering a new market where they have to deal with a new currency, not only the actual FX but also repatriating the funds. To support our merchants in entering new markets, we have built the Pipit FX Engine. With this, our merchants can create all their orders for Pipit in their home/preferred currency (USD, Euro, GBP) and the consumer receives the order in their local currency.
The FX Engine is built into our API and the merchants can deploy it in any country – we now have merchants creating all their orders in USD and accepting payments in Nigerian Naira, Kenyan Shillings, and Senegal XOF.
With the Pipit Dashboard and/or API, merchants can reconcile their payments across all countries in the merchant's home currency, with a single view. FX is managed completely via the API and is seamless.
African Licensing
As we have extended our range of partners in Africa, we can now extend their licence coverage to our merchants. Any merchant – eCommerce, eWallet, biller, or bank – that wants to accept payments/lodgements from Africa can now do so under licensing provide by our collection partners.
Settlements to anywhere in the world
We have also extended our connections to global settlement partners, so we can now settle funds to pretty much anywhere in the world in local receive currency/any currency required.
No More Barriers
The net result of Pipit's extended payments capabilities, FX Engine, Licensing partnerships, and Settlements capabilities is the removal of barriers to entering Emerging Markets for our merchants.
To see how Pipit can expand your payments horizons book a call with our Global Sales Director - John Kurton.
Book a Meeting with John Kurton Here