Two weeks ago (Saturday 13th) I gave a talk to Youth Bank Ireland at their Step It Up Conference in Carlingford.
If you are not familiar with Youth Bank it is an international movement to help inspire young people to get involved in their community and in social entrepreneurship. The teams raise funding which they use to target a specific problem youth are experiencing in their own areas. The process teaches them the power of social entrepreneurship, but also the effectiveness of team work, goal orientation, decision making, planning, strategy as well as responsibility.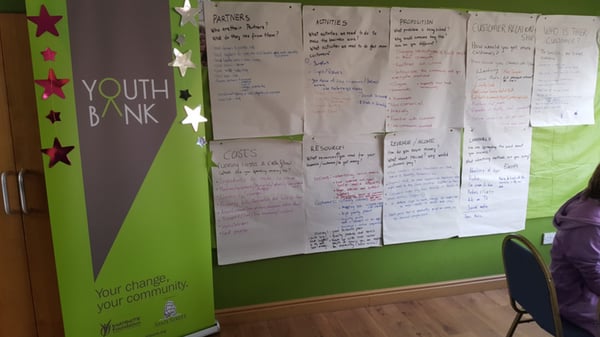 I was invited to tell them the PiP iT story – founding and growing a social enterprise and how being a social entrepreneur provides its own motivation, but also to stay on and mentor the groups on projects they were addressing.
As part of the training about problem analysis, the group (25 of them aged 15 – 19) were shown the video on a US Social Enterprise who started making ice cream in their neighbourhood.
Having seen the video, the group were divided into nine teams. Each was given one question to answer about the video and had ten minutes to write out their thoughts on a A2 page. The questions were around channels to market, revenue, costs, activates, partners etc.
Each of the groups then had to present their conclusions to the room and the page attached to the wall.
When all had presented, the pages made up the Business Model Canvas.
Each group then had to apply what they had learnt to their own business idea.
We use the BMC constantly to assess businesses and markets. I thought this process of teaching it to the group was particularly insightful. Essentially the Youth Bank leaders thought a group of teenagers how to analyse a business and its market in about 20 minutes!
If you'd like to know more about Youth Bank follow the link.