I spent most of last week in Nigeria as part of Enterprise Ireland's participation in Lagos FinTech Week.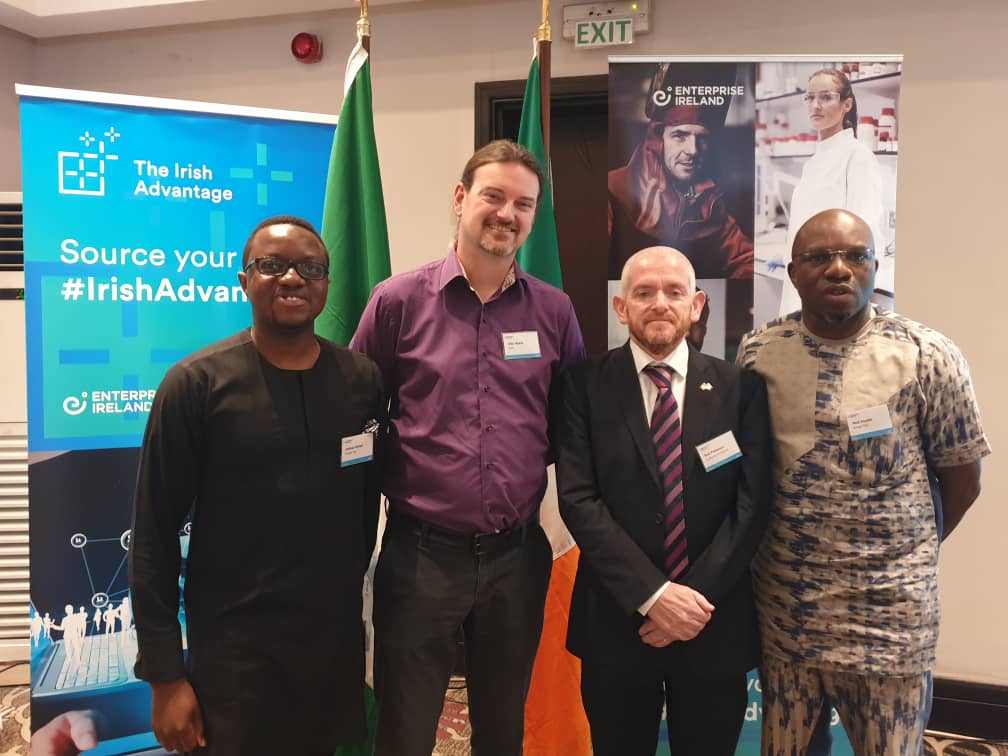 (Pictured from Left to Right: Joshua Fatoye, VP KongaPay, Ollie Walsh, CEO, PiP iT Global, Bob Patterson, Irish Chargé d'Affaires to Nigeria, Nick Imudia, CEO, KongaPay)
PiP iT has been working over the last year in Nigeria with companies like Hygeia HMO Health Insurance and Sterling Bank to offer Nigerian's in the UK the ability to use cash where they live to support their families at home, as opposed to remitting cash. With PiP iT it's cheaper and safer than remittance.
We also have a partner company in Lagos, Sochitel, who work with our team on business development in Nigeria and west Africa.
This was my second trip to Lagos in a year, and in our digital age, there is still nothing better than meeting in person.
In a 3-day period, I met with 6 banks, 1 banking platform, 1 eWallet provider, and 1 large eCommerce platform – all of whom are all interested in working with PiP iT so that their customers can pay in cash. We have been negotiating with these companies over the last 3 – 6 months but meeting them face-to-face can lead to instant progress. (Of course, as well as doing business, travelling to west Africa makes a significant environmental footprint, so I was keen to maximise my time and to make the trip worthwhile too).
I also met with Flutterwave – a US payments company with their African HQ in Lagos. While there we signed off on a partnership agreement which will give us access to banks, mobile money accounts and websites across ten countries in Africa.
This week we also signed a partnership agreement with Wari, a company from Senegal with 35,000 Pay-in points across Africa, which will soon accept PiP iT barcodes.
The Enterprise Ireland (EI) event which was the finale of the week was an excellent showcase of both Ireland and Nigeria's FinTech landscape with a focus on 4 Irish FinTech companies in particular.
After introductions by Thessa Bagu (EI Nigeria representative) and Bob Patterson (Irish Chargé d'Affaires to Nigeria); Fred Klinkenberg (EI Regional Director Sub Saharan Africa) gave a presentation on the specular growth of the Irish economy in general and of the FinTech sector in particular – highlighting EI's role in that success both in their position as the number 2 FinTech investor in the world last year (after Y Combinator) and in the soft skills they bring through their global network.
After Fred, Rakiya Shuaibu Mohammed, IT Director for the Central Bank of Nigeria (CBN) gave a talk on their strategy to grow FinTech and the finance industry in Nigeria. She was followed by Dr Segun Aina – President of the FinTech Association of Nigeria who brought us all up to speed on the FinTech ecosystem in the 'Silicon Savannah' (though Kenya seems to be fighting for that title!). News on the ecosystem declared Nigeria as the No. 1 destination for VC funding in Africa and what sounds like a very exciting program to introduce tech innovation concepts such as AI and Blockchain to primary schools in Nigeria to start the process of getting ahead in innovation.
60% of the Nigerian population are under the age of 35 – matching that with a vibrant atmosphere, positive attitude and the very smart people eager to do business that I have encountered on my trips to Lagos; I have no doubt that Nigeria will emerge as a FinTech hub, not just in Africa, but globally. EI are well positioned to partner Irish companies and hubs with Nigerian ones.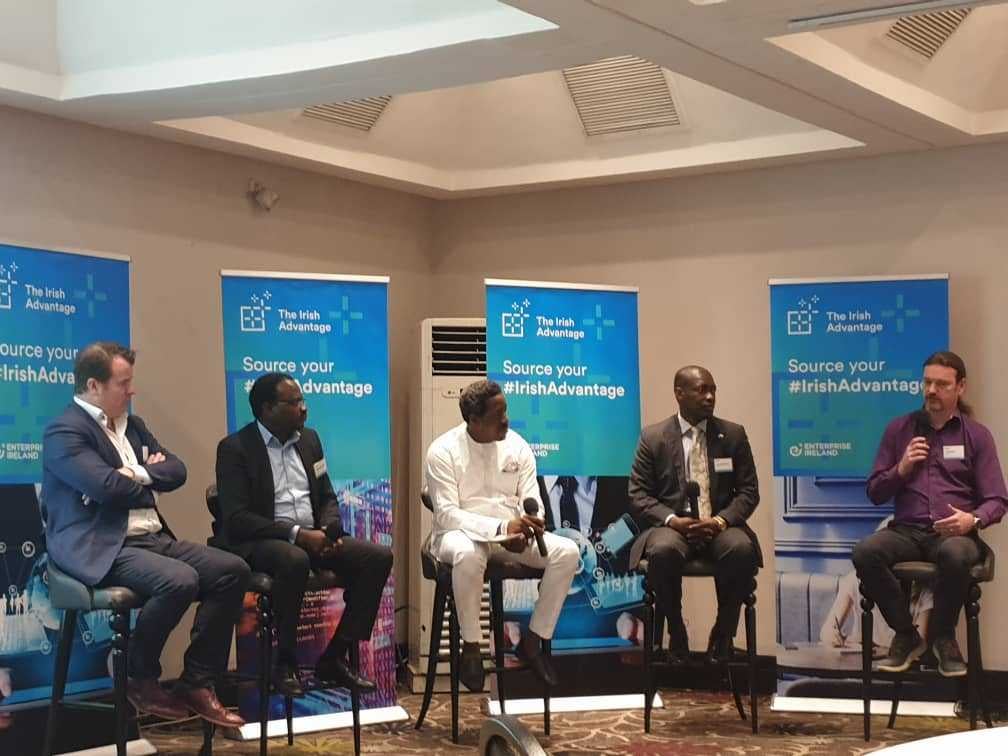 The panel section of the event featured Ian Lucey from PixAlert, Luqman Balogun from Daon Adebiyi Mabadeje (moderator) from @softcity @Daniel Akumabor from CR2 and myself representing PiP iT.
I knew of Ian as an investor with his brilliant strategy of seconding people and technology to start ups by way of investment (150 companies to date!), but I have to confess I was not aware of PixAlert the company he was representing.
PixAlert platform essentially catalogues all the content on a company's network to identify malicious content, GDPR, PCI Security as well as identifying employees spending hours on social media. After the 'Nigerian Prince' scam emails started, PixAlert were brought in by CBN to review and secure the networks of all the banks. Nigerian banks now are ranked amongst the highest in the world for PCI compliance. (This year Nigeria also enacted Nigerian Data Protection Regulation or NDPR, which is similar to GDPR and applies to all data within Nigeria and to all data globally related to Nigerian citizens)
Daon have developed cutting edge biometric ID systems which are used by banks around the world (and I assume any other company that wants biometric ID, not just banks) using a mobile phones existing functionality (camera, fingerprint scanner etc) to enable biometric security. They processed an extremely impressive 1B verifications last year.
CR2 have pretty much created omni-channel banking with their banking platform and ATM hardware network across developing nations. Daniel gave some fascinating insights into how they are working with banks in Nigeria to go fully omni-channel by blending digital with their existing offerings.
The presentations were rounded off by Asif Sheikh from CR2's Dubai office giving a presentation on the future of banking, with specific reference to the CBN's ambitious target of having 95% financial inclusion in the country by 2025. The current rate is 40%.
Two hours of networking followed which brought extra value to the event as Nigerian companies got to not only talk with the Irish companies, but also with their local peers. I say two hours of networking, it might have been longer, but I had to go as I had another meeting to get to!
In two weeks' time I'm going to repeat this exercise in Kenya on a Trade Mission with Heather Humphries - Ireland's Minister for Trade and Innovation. We have two new PiP iT partners to formally announce at the event, and our target is to get a few more signed while I am there!