Tawakal Express and PiP iT Global form partnership to serve the growing East African Market
Just weeks after launching our PiPiT banking platform, we are delighted to confirm Tawakal Express as our first LIVE banking partner. From 5th October, Tawakal Express account holders living in the UK can now Top-Up their account via the T-Plus eWallet at any UK Post Office.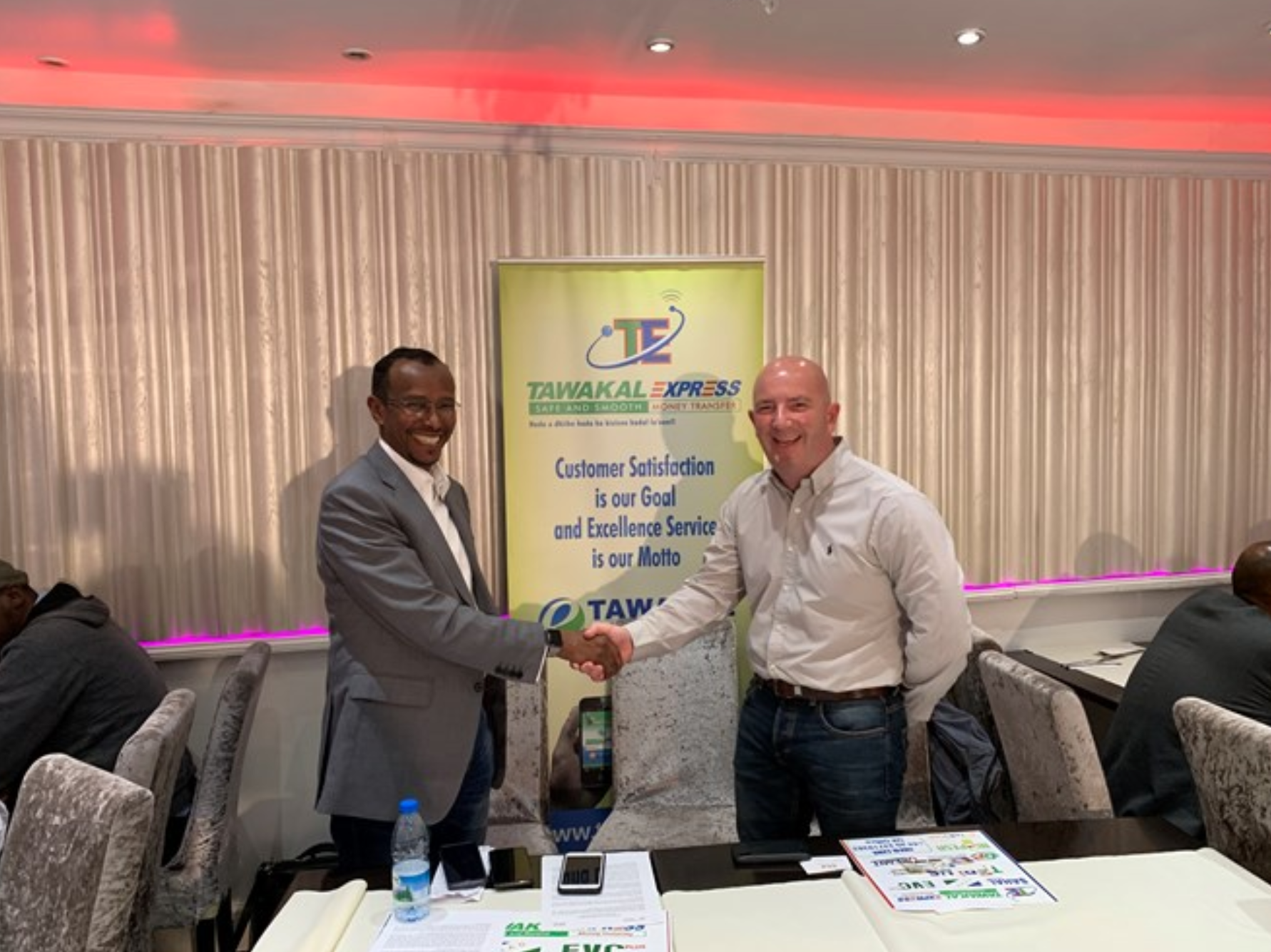 (Pictured left from right: Tawakal Express Business Development Manager, Ali Mohammed shakes hands with John Kurton, Head of Sales, PiP iT Global)
Tawakal Express, the first mobile wallet of Somalia, have now formed a strategic partnership with PiP iT Global, the international online cash platform. This partnership will enable African migrants living and working in the UK to load their T-Plus eWallets from any UK Post Office with cash or a debit card and pay bills back at home.

African overseas workers such as Somalis, Kenyans, Ugandans and Ethiopians living in the UK can now load their T-Plus eWallet at any of the 11,500 Post Office branches around the UK, making the T-Plus eWallet one of the most useful, safest and cost-effective ways to support family at home.

A T-Plus eWallet account has all the functionality of an online bank so financially excluded migrants in the UK no longer have to use expensive cash transfer services. This new partnership with PiPiT, means that users can load their eWallet much more easily than before, opening up access to the T-Plus services to diaspora living all across the UK, and not only those close to the Tawakal Express offices.

PiP iT Global's platform for cash transfers provides international bill payment, e-deposits and e-wallets to make electronic payments and e-commerce services for consumers and merchants. The Tawakal Express brand operates as a global remittance company, value transfer service and Sombank; leading the way to create a bridge for migrant communities across the world to support their friends and family back home.

Mr Mohamed Jama, CEO, Tawakal Express commented that "Tawakal Express is continuously searching for innovative ways to help our customers to support their loved ones back home and there is a lot of demand within the diaspora for affordable and efficient services. This partnership makes it easier for us to do this and we are happy to be able to provide this new Top-Up service."

Ollie Walsh, CEO of PiP iT Global added that "through this partnership with Tawakal Express we are delighted that our payment platform will help the diaspora to send money home to support their families and pay bills for their family back home while working abroad. This service is available to them even if they don't have a bank account in either country."